Loan Assist
Can I Take Finance on purchase of Purchase of House / Flat / Commercial property?
Yes you can avail finance, all the properties sold have clear titles and approved by leading financial intuitions.
What are the eligibility criteria for a Housing Loan?
To avail a Home Loan from you must be:
A Resident Indian
Above 21 years at the commencement of the loan
Below 65 / retirement age at the time of maturity
How much loan amount will I be sanctioned?
The maximum loan that can be obtained is 80% of the agreement value however your loan eligibility will be determined by the bank on the basis of factors such as income, age, qualifications, number of dependants, spouse's income, assets, liabilities, stability and continuity of occupation and savings history to ensure easy repayment for you in the future. The loan eligibility will be subject to the value of property selected by you.
When can I apply for a loan
You can apply for a loan even before the purchase of the property. A loan amount will be sanctioned to you based on the above eligibility criteria. The loan amount will be subject to the value of the property, when you select one.
What is the maximum tenure of the Loan?
Maximum tenure of the loan is 25 years, subject to eligibility norms.
Any other documents, as may be required
Passport size photograph
Identification Proof
Age Proof
Bank statement / Pass book copy for last 3-6 months

Documents required may vary*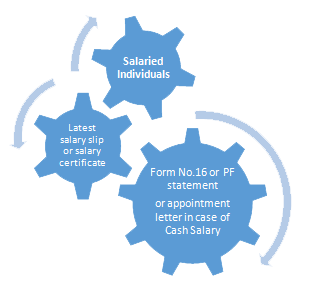 What security do I need to provide?
The security for the loan is a first mortgage of the property to be financed, normally by way of deposit of title deeds and/or such other collateral security as may be necessary. The title to the property should be clear, marketable and free from any encumbrances.Interim security may be additionally required, if the property is under construction.